You can connect the Igaware Linux Small Business Server to the Internet using a router of your choice, but if you choose a Billion 8800NL router you can expect connectivity to be robust.
The Billion 8800NL combines an ADSL/ADSL2+ modem, for conventional broadband services with a VDSL2 modem for FTTC fibre broadband services. It also incorporates target SNR margin adjustment for ADSL and ADSL2+ services.
Target SNR margin adjustment with the 8800NL can significantly improve download speeds for many broadband users as it means they are no-longer dependent upon exchange Digital Line Management (DLM) systems, which can increase the target SNR margin to very high levels (substantially reducing download speed). Check out this SNR Tweak article.
Setting up the Billion 8800NL Router with the Igaware Linux Small Business Server is straight forward:
Switch the router on and connect it to a laptop via an ethernet cable. By default the router has DHCP enabled so you can access the router web admin page by opening a web browser and going to the default IP of the router 192.168.1.254
Login to the web admin page using the default user name and password supplied with the router.
From the menu select 'Quick Start' and enter your ADSL username and password, then select continue.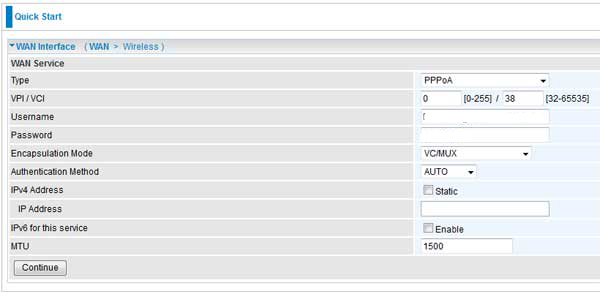 From the menu select Configuration=>WAN and select Service pppoa_0_0_38


Enable NAT and disable Firewall.
Now go to NAT => DMZ Host


Set DMZ HOST IP Address to the WAN IP of the Igaware Server e.g 10.10.10.2.
Now select LAN.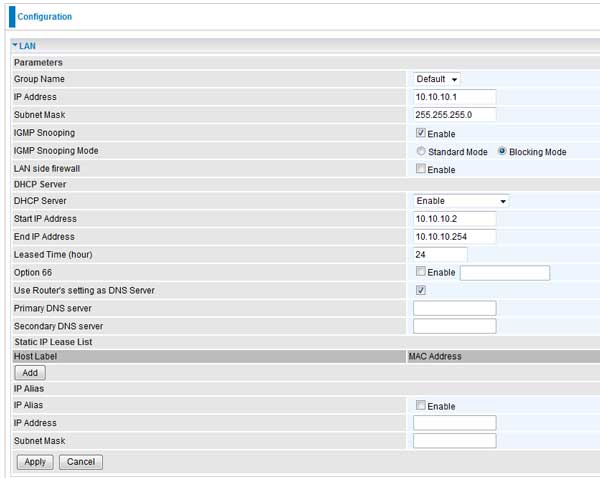 Set IP Address e.g. 10.10.10.1 and Subnet Mask e.g. 255.255.255.0
To prevent Internet access from the WAN side of the Igaware Firewall, it's advisable to disable the wireless interface on the router.