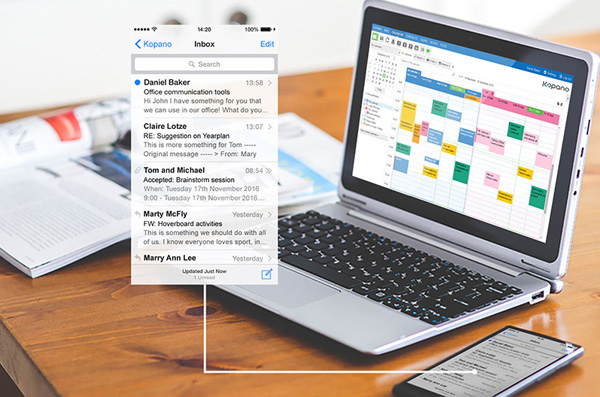 Kopano Groupware requires an annual licence that can be purchased directly from Igaware. The licence key is entered in the Igaware admin interface, Servers => Collaborative Groupware => Kopano Server => General. Once entered you are ready to setup users and client access.
On the Igaware interface you can select which users are enabled for Kopano Groupware Servers => Collaborative Groupware => Kopano Server => Users
Migrating Email to Kopano
Email can be migrated directly from MS Exchange server , IMAP server, and .pst files can also be directly imported.
Client Setup
Kopano Groupware can be accessed via Kopano Webapp, Kopano Deskapp, MS Outlook and many other email clients such as Thunderbird. Kopano offers freedom to choose the client thatsuits the way you work.
MS Outlook
Outlook connects to Kopano via Active Sync (EAS) and collaborative features (shared folders, calendars, global address book) are enabled by installing the Kopano Outlook Extender.
https://documentation.kopano.io/user_manual_kopanocore/configure_outlook.html
Select this link for details on setting up Outlook with Kopano: https://kb.kopano.io/display/WIKI/Setting+up+the+Kopano+OL+Extension
Note: Older versions of Outlook (e.g. Outlook 2010) work with Kopano using a MAPI connector (Zarafa Outlook Client). The connector is no-longer under development so we recommend that Outlook users upgrade to the current Outlook version.
Note: Outlook can also be configured using IMAP/POP3 with Kopano should collborative features such as shared calendars etc. aren't required.
Kopano Webapp
The Kopano WebApp is a set of collaboration applications that can be accessed through a web browser. It has all the major features that users of i.e. Microsoft Outlook use on a daily basis, such as email, calendars, contacts, notes and tasks.
Kopano DeskApp
Kopano DeskApp is designed to be the bridge between WebApp and the desktop. DeskApp adds features a web application in a browser can't, such as being set as the default email client, integrate with the file system to send any file as an attachment. Or even with the operating system so you can send emails from any office application.
Alternative Mail Clients
Any email client that supports Active Sync, POP3, or IMAP protocols can be used with Kopano for accessing email.
To configure your choosen email client, follow this link: https://documentation.kopano.io/user_manual_kopanocore/configure_alternative_mail_clients.html
If you need our help please call +44 (0)191 303 6177 and ask for support or email support@igaware.com.